Yesterday, I promised a paint project for today, so a paint project it will be. ;)
This is a beach sign I made out of the same FREE pallets that Porkchop made my window box planters with.
Once again, Porkchop and I separated one of the pallets and pull all the nails out. After that, it was just a matter of going through the stack and picking out the boards I wanted to use. After I gathered enough boards to make the size of sign I wanted, I lined them up and screwed 3 picket fence slats
(leftover from last month's
Fourth of July Flag
)
to the backs of each board to hold the sign together. Porkchop attached a hanging wire on the back and handed the sign off to me to paint.
Here we go with the colors again!!
(If you read about
my old cabinet that got a new look
, then you know how hard this
picking colors
stuff is for me. lol)
I knew I wanted to hang this sign on a large wall in my guest bedroom. After about 3 trips back and forth between the garage and the bedroom
(dickering around with colors in my head)
I mentioned to Porkchop that I though I needed to pull more of the blue colors out in the room's decor. Well... surprise, surprise, surprise! Turns out, we had something that was really close to what I wanted... the leftover Valspar interior paint in Skyscape that we used in our daughter's old bedroom. Woo hoo!!
So, I painted the entire front of the sign in the

Skyscape

color, spreading the paint a little thinner around the edges to give it that worn-out look.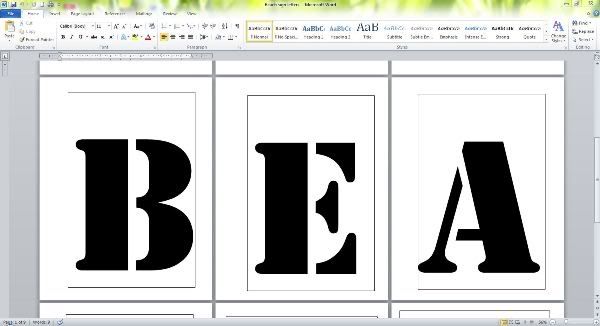 Because I loath standing around watching paint dry, I figured this would be a great time to grab my laptop and work on making the letter stencils with Microsoft Word. After searching through my 15 billion fonts, I finally decided on the two I used... one appropriately named STENCIL and the other FREESTYLE SCRIPT. Lord only knows where I got these fonts from, but if you want them, I'd say you could Google them or find them on one of your favorite font sites.
It seemed to me that printing them off onto something thick like cardstock paper was probably my best bet since I'd be painting over them.
(And, since I happened to have some cardstock paper, it turned out to be an excellent idea!)

Cutting the stencils out was a cinch with an X-ACTO knife and a block of wood beneath.
To make it easier to line the letters up straight, I taped all the cardstock pages together. Then,
I laid them across the front of the sign.
(After it was completely dry, of course!)
Using newspaper, I covered any bare wood I didn't want over-spray on and taped it all down with painters tape... or maybe it was duct tape, I forget.
The black letters were painted first using regular ol' Black
(duh)
spray paint. Once those dried, I then hand-painted the script lettering over top in a medium gray color with a thin craft paint brush. You could barely see the word Someday on the sign though, so I went back and did it all over again with

Sunburst Yellow

. The brighter yellow seems to work better, I think.
We're Linked Up
Looking for more creative ideas, useful information and practical tips? Check out these fabulous link-up parties...